Revelation: A Rock Opera
Thursday, January 08, 2015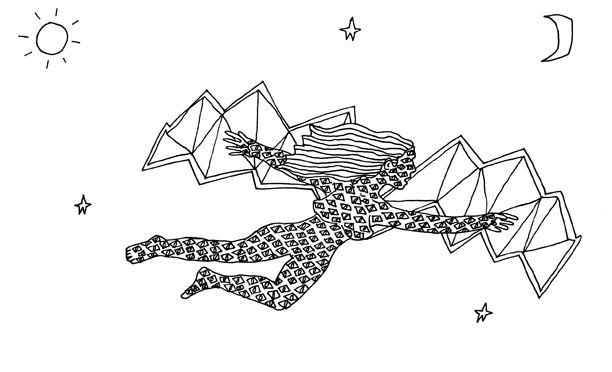 (Zebadiah Keneally)
Each year Studio 360 challenges listeners to make Creative Resolutions, and at the beginning of 2014, Mike Doughty called into the show and told host Kurt Andersen that he wanted to make a musical based on the Book of Revelation. "It is an absolutely terrifying, psychedelic tale of destruction, and the language is so beautiful," Doughty told Kurt Andersen. "I thought, with the right music and the right visuals, it would be a great show." Studio 360 held Mike to his promise, and the result is Revelation. 
Inspired by the vivid imagery of angels and beasts in the biblical book, Doughty brings to life the final chapter of the Bible with driving, funky music.  Doughty himself stars as John the Revelator in a production that includes 20 songs, live music, and stunning hand-drawn images projected onto the stage.
Revelation is written, composed, directed and performed by Doughty. The show also stars actress Amber Gray, singers Xenia Rubinos and Melissa McMillan, and musicians Andrew Livingston, John Guari and Pete Wilhoit. Visual art and costumes created by Zebadiah Keneally.
Studio 360's Kurt Andersen will host a post-show Q & A with Doughty on opening night.
Audiences have three chances to see the performance in The Greene Space: at 7pm and 9:30pm Wednesday, January 28 and at 8pm on Thursday, January 29.
PERFORMANCE SCHEDULE
Tuesday, January 27
7pm
$40
CANCELED- This performance has been rescheduled for Thursday, January 29 at 8PM.

Wednesday, January 28
7pm
$40
BUY NOW

9:30pm
$40
BUY NOW

Thursday, January 29
8pm
$40
BUY NOW
More in: