Watch Live and Vote: Ultimate Battle of the Boroughs 2015
Tuesday, March 24, 2015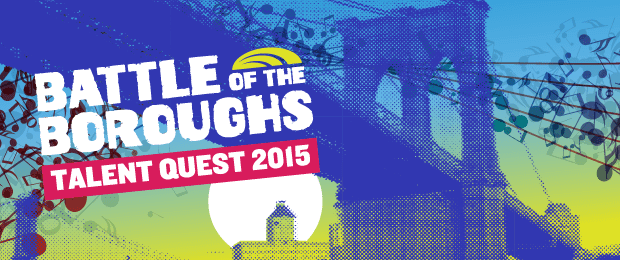 (The Greene Space)
UPDATE: Congratulations to our winners, from Queens, Addi & Jacq!
It's the ultimate showdown! Hundreds of up-and-coming musical acts entered, 40 were chosen to compete and now voters have picked our five finalists. Only one musical act can take the crown. Which borough will reign supreme?
Emceed by WQXR's Terrance McKnight and featuring guest judges Helga Davis, vocalist and Q2 Music host; Bob Power, award-winning, multi-platinum record producer, mixer, engineer and musician; and Marion J. Caffey, producer of Amateur Night at the Apollo Theater.
Watch live and vote Friday at 7:30pm:
Voting opens Friday at 7:30pm ET and closes at the end of the show.
Text your favorite act's code to 69866 to vote.
BX1   Lady Moon & The Eclipse
QN4  Addi & Jacq
SI8    Sicada
BK8   The Nat Osborn Band
MN7  Gerardo Contino y Los Habaneros
More in: